Hair Transplant in Iran
(IRAN)
Operation Duration
1-6 hours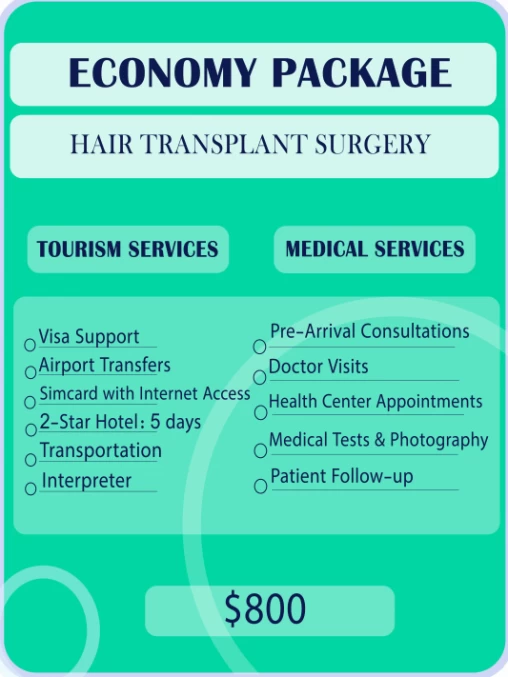 ---
Create your own medical package
City:
Hotel:
Meals:
City Tour:
Transportation:
Transportation
People
Days:
Total price: 600 United States dollar
What Is Hair Transplant?
Hair loss is one of the common beauty problems in the world that can affect people's self-confidence and cause depression and social anxiety. By the age of 50, almost two-thirds of men gradually lose their hair. Of course, this is not just a problem for men; currently, half of women struggle with hair loss too. Fortunately, today, there are various treatments for hair loss such as minoxidil solution, aloe vera gel, rosemary oil, finasteride medication, etc.; however, the best and most popular treatment for hair loss is hair planting surgery.
Why Choosing Iran for Hair Transplant?
With the growing number of people losing their hair due to different reasons such as Covid-19, stress, unhealthy diet, etc., the demand for hair transplant surgery in Iran has been increased and numerous international patients perform this surgery in the country. In Iran, you can benefit from the experience of skilled physicians and facilities of advanced clinics at an affordable price. So, Iran is regarded as one the best countries to do hair plant surgery in.
Cost of Hair Plant in Iran
The cost of hair plant in Iran depends on the strength or weakness of the hair follicles in the donor area, the size of hairless area, the number of hair grafts planted, the fee of the specialist or dermatologist, and the clinic's facilities. On an average, the cost of hair transplant in Iran ranges between $1,000 to $2,500 while in the U.S. it starts from $4,000.
Ideal Candidates for Hair Planting in Iran
Although hair planting is an effective way to get rid of baldness, it cannot be used for everyone. This method is not suitable for people who have lost their hair due to nutritional deficiency, lack of iron, chemotherapy, and taking specialty drug. It is worth mentioning that people whose donor area doesn't have sufficient hair follicle are not ideal candidates for hair planting as well.
In general, hair transplant surgery is suitable for people who have lost their hair because of heredity and genetic problems.
Methods of Hair Transplant in Iran
In Iran, hair transplant is performed in several ways, the most common of which are FUT (follicular unit transplantation) and FUE (follicular unit extraction).
1. FUT or strip method: in this method, a thin strip of skin containing hair follicles are removed from the donor area and then, it is planted in the desired spot. The back of the scalp, which is the least likely to go bald, is generally chosen as the donor area. This surgery is done under local anesthesia and is the best option for those who suffer from crown baldness.
2. FUE or follicular transfer: the only difference between this method and the previous one is that in FUE, the follicle grafts are removed directly from the donor site and the skin of the scalp is not removed. Generally, the physicians in Iran recommend this method to those who lost hair on top of their head. It is noteworthy that this method causes less scar and has a shorter recovery period.
The other methods of hair transplant practiced in Iran include NeoGraft, SUT, FIT (follicular isolation technique), mesotherapy, etc. Depending on the severity and location of hair loss, your dermatologist will choose the best treatment for you.
Success Rate of Hair Plant in Iran
The success rate of hair plant depends on several factors including genetic diseases, diabetes, thyroid problems, method of hair transplant, skill of the surgeon, hair density in the donor area, hair thickness, and hair loss severity. In general, the success rate of this surgery in Iran is above %85.
Possible Complications of Hair Transplant in Iran
If hair transplant surgery is performed by a skilled and experienced doctor, it has inconsiderable complications which will disappear within a few days. The most important side effects of hair planting in Iran include:
Minor bleeding;
Infection;
Swelling of the scalp;
Swelling and bruising around the eyes;
Itching in the scalp;
Crusting in the donor area;
Sudden and temporary hair loss in the treated area; and
Abnormal result of hair transplant.
Many of these complications can be prevented by choosing a reliable clinic as well as the best hair transplant specialist.
Itinerary
---
Day 1
Arrival at IKA, transfer to the hotel and check in. Take a short break and head to the clinic to visit the doctor (if is needed). Go to the restaurant and have dinner with Raadina Health team.
Day 2
Move to the clinic to perform the necessary tests and get ready for hair transplant surgery. Receive recovery guidelines and discharge from the hospital on the same day. Return to the hotel and rest.
Day 3
Rest in the hotel, go on a city tour if you prefer.
Day 4
Rest in the hotel, follow the doctor's recommendations and take prescribed medications, go on a city tour if you prefer.
Day 5
Rest in the hotel and move to the clinic to visit the doctor in order to get permission to return to your country.