Operation Duration
2-3 hours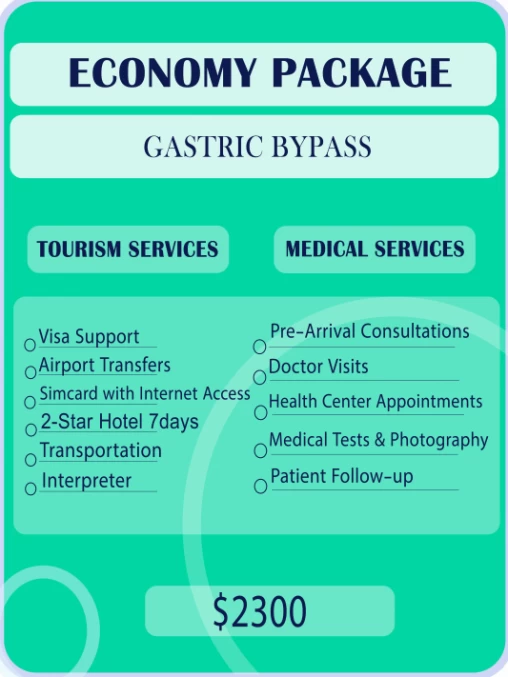 ---
Create your own medical package
City:
Hotel:
Meals:
City Tour:
Transportation:
Transportation
People
Days:
Total price: 2,300 United States dollar
What Is Gastric Bypass?
One of the most popular weight loss surgeries in the world is gastric bypass or Roux-en-Y gastric bypass. This surgery is usually used for those who cannot lose weight in the usual ways (such as exercising and going on a diet) and the ones suffering from obesity-related diseases. Most gastroenterologists also prefer this surgery because it has fewer complications than other weight loss surgeries. In this operation, the surgeon reduces the volume of the stomach and connects it to the small intestine; by doing so, the patient feels full most of the times and avoids overeating.
Who Can Do Gastric Bypass in Iran?
Losing weight in a very short time can be tempting to some people; however, only the people with following features can do gastric bypass in Iran:
People with BMI of 0 ≤ 40; these people are usually 45 kg overweight;
People who have type 2 diabetes or high blood pressure and their BMI is 0 ≤ 30; and
Patients who have heart diseases, metabolic syndrome, degenerative disc disease, and severe low back pain and their BMI is more than 35.
In fact, the weight of the people who can undergo this operation is very high and they can no longer lose weight with diet or exercise.
Procedure of Gastric Bypass in Iran
In Iran, gastric bypass surgery is done in two ways; open and laparoscopic. Although laparoscopic surgery is more popular and has shorter recovery time, but it is not suitable for everyone and your surgeon must decide which type of surgery is suitable for you. The type of your surgery depends on your health condition, current weight, expectation, and your surgeon's opinion.
Gastric bypass surgery usually takes a few hours but you need to stay at hospital for almost five days. After the surgery, you will wake up in the recovery room and the nurses will check your general health and surgical site to make sure that your operation was performed as well as possible.
Cost of Gastric Bypass in Iran
The cost of gastric bypass in Iran mainly depends on the skills and reputation of the surgeon. However, other factors such as hospital's facilities, post-op cares, and the type of the surgery can affect the price of this operation. On an average, the cost of gastric bypass in Iran is between $4,000 and $5,500.
What Happens After Gastric Bypass?
After gastric bypass surgery, you are not allowed to eat for one or two days; so, your digestive system will have enough time to heal properly. Then, you should follow a special diet for 12 weeks. This diet begins with drinks and soft dishes and ends with regular meals. Since your body loses so much weight at once, you may have mild pain and nausea for a couple of months. Also, this operation can lead to a reduction in the necessary vitamins and minerals such as vitamin B12, calcium, and iron; so, it is necessary to take prescribed medications and supplements and get regular checkups every six months.
Iran Is the Best Place to Do Gastric Bypass: But why?
With the growing number of obese people in Iran, many patients perform weight loss surgeries such as gastric bypass. As a result, the surgeons in Iran are experienced in this field and can definitely decide whether you need a surgical procedure or not. Moreover, you can do gastric bypass in Iran at a reasonable price and enjoy the excellent healthcare services of the country.
Itinerary
---
Day 1
Arrival at IKA, transfer to the hotel and check in. Take a short break and head to the clinic to visit the doctor in order to perform initial checkups before the surgery. Go to the restaurant and have dinner with Raadina Health team.
Day 2
Move to the hospital, perform the necessary preoperative tests and get ready for the surgery on the same day (at the discretion of the doctor). Visit the doctor in the afternoon for post-operative checkup, stay overnight in the hospital.
Day 3
Visit the doctor and follow the recommendations. Try to walk and discharge from the hospital at the doctor's discretion. Return to the hotel and rest.
Day 4
Rest in the hotel, follow the dietary guidelines and take prescribed medications after gastric bypass surgery.
Day 5
Rest in the hotel, follow the dietary guidelines and take prescribed medications. Go on a city tour if you prefer.
Day 6
Rest in the hotel and move to the clinic to visit the doctor for surgical site assessment and remove the dressings. Receive the necessary post-surgical recommendations and get permission to return to your country. Head to the hotel and rest.
Day 7
Check out and transfer to the airport to fly back to your country.