IVF is the most popular type of assisted reproductive technology, which has helped millions of couples to expand their family. This assisted conception method can be done with the couple's gametes or donated ones. Despite having a high success rate, IVF with a donor egg is more expensive than regular IVF; therefore, many couples prefer getting this fertility treatment in another country to lower their expenses. In this essay, we innumerate the benefits of egg donation abroad and introduce the most popular destinations for this procedure.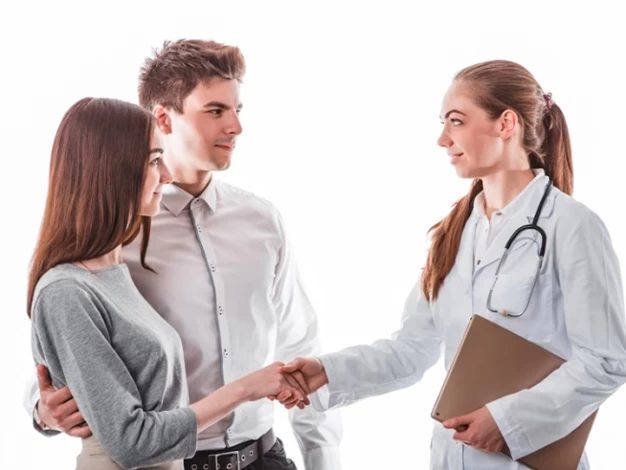 Why Have IVF with Donor Egg?
IVF with a donor egg has proved to be a highly successful fertility treatment; in other words, the couple's chance of conceiving via this method in their first attempt is more than 50% which is a likely-looking number. In general, IVF with a donor egg is a great option for the following:
Women above the age of 40;

Women with poor egg quality;

Women with diminished ovarian reserve;

Women who lost both of their ovaries and fallopian tubes due to trauma or disease;

Women with ovarian cancer or endometriosis.
Why Get IVF with a Donor Egg Abroad?
As mentioned earlier, IVF is a costly procedure, and, in most cases, it should be repeated a few times to be successful. In countries such as the USA and the U.K., the price of IVF with donor eggs is notably high and is not covered by many insurance plans. Booking a flight to a cheaper country like Iran and staying there for a few days would be much cheaper than getting this fertility treatment in the U.S. or some European countries.
Moreover, some countries have more facilities for embryo preservation and transfer to the uterus. For instance, the United Kingdom, South Korea, and the Czech Republic are famous for their equipped embryo laboratories. At the same time, Iran and Turkey are well-known for their embryo/egg/sperm freezing techniques and devices.
Furthermore, some countries are home to board-certified, experienced fertility specialists, while some other parts of the world need more proficient doctors and embryologists. So, couples who have not conceived through IVF can boost their pregnancy chance by having this procedure in countries where the quality of healthcare services is high.
Finally, yet importantly, IVF with donor eggs is not allowed for same-sex couples and single people in Muslim countries.
IVF with Egg Donation Abroad
If you are encouraged to have IVF with egg donation abroad, read the following to familiarize yourself with the best countries for this fertility treatment.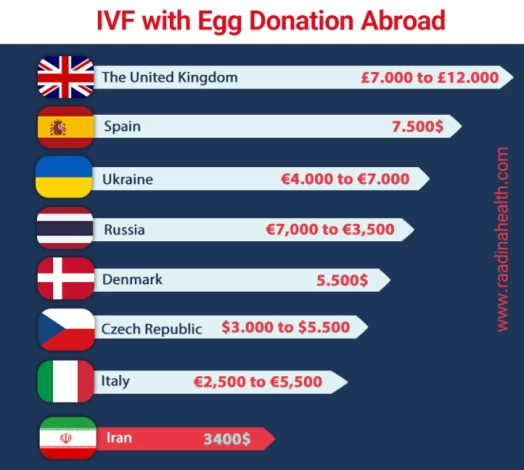 Czech Republic
This country has strict rules for donating egg and using it in IVF. For instance, the donor must be below 35 and take lots of blood and genetic tests. Prague and Brno are two popular destinations for IVF with donor eggs, where tens of fertility specialists help infertile couples have healthy children. The total price of IVF with egg donation in the Czech Republic depends on the doctor's reputation, the number and type of embryo monitoring, and the number of eggs and embryos needed for a successful pregnancy. On average, the cost of this fertility may range from $3.000 to $5.500.
Spain
Spain is another European country with high-standard fertility treatments. Thanks to having remarkable and eminent fertility specialists and hospitals, hundreds of couples receive IVF treatment in this country annually, so the Spanish authorities have established international departments in all health centers where the staff are fluent in English and ready to help foreign patients.
Fortunately, Spain also has many egg/sperm donation centers, so the waiting list for receiving one is quite short. However, the pre-IVF tests and freezing egg/sperm are costly in Spain. On average, IVF with a donor egg in Spain costs $7.500, excluding embryo scope and medical consultations.
Denmark
Today, one in ten babies born in Denmark is conceived through ART. Denmark has liberal legalization toward using donor egg/sperm in IVF, so it is a popular destination for homosexual couples and single people who wish to have children through this technique. This country also has strict regulations toward egg donation, forcing the donors to take multiple psychological examinations, STD tests, and genetic screenings. The cost of IVF with donor eggs in Denmark is $5.500 for foreign patients, excluding medications and pre-genetic tests.
Italy
In addition to its picturesque scenes, Mediterranean climate, and tasty dishes, Italy is known for its developed healthcare system and reasonable cost of fertility treatments. Luckily, the political and religious laws prohibiting IVF with donor egg/sperm has been amended, and today, even the LGTBQs can benefit from this fertility treatment.
You can now find tens of advanced fertility clinics in Rome, Milan, Turin, and Bologna. Thanks to the mandatory tests and examinations, the success rate of IVF with egg donation in Italy is around 60% for patients younger than 35 years and 40% for women above 45.
Russia
If you are considering egg donation abroad, you can probably find the best fertility clinics in the world in Moscow and St Petersburg. Many infertile couples choose Russia for their fertility treatment as in this country, the price of IVF is relatively lower than in European countries, and waiting lists for receiving donor egg is short.
However, it should be mentioned that IVF is prohibited for same-sex couples and women over 50 in Russia. Also, sex selection and transferring more than two embryos are prohibited in this country. The cost of IVF with donor eggs in Russia starts from €3,500 and can go up to €7,000, depending on what extra services you get.
United Kingdom
The United Kingdom is among the first places where IVF was practiced in a non-test situation. Quality fertility clinics, distinguished IVF experts, and world-class healthcare standards have made the U.K. a favorable destination for those who need egg donation abroad. This treatment is offered to heterosexual couples, single women, and same-sex couples in the U.K., but the total cost of IVF with a donor egg in this country is a bit high, ranging between £7.000 to £12.000.
Ukraine
Ukraine is another European country where IVF with donor gamete is widely practiced. The fertility clinics in this country have expert medical staff who speak English and some other languages fluently so that you won't have any problems as a foreigner. The egg donors in Ukraine should be between the ages of 18 and 35 years and must take a series of tests such as CBC, AMH, coagulation, antibodies to HIV and syphilis, and hepatitis before the start of the procedure.
Furthermore, IVF with donor eggs is prohibited in Ukraine for homosexual couples, and sex selection can only be made for medical purposes. The cost of IVF with donor eggs in this country ranges between €4,000 to €7,000, without calculating the additional costs.
Iran
As the cheapest country for IVF with donor eggs, Iran is one of the world's most popular destinations for this fertility treatment. Having world-renowned fertility specialists and embryologists, licensed IVF clinics, and patient-friendly health laws that protect both the donor and the recipients have made this country a reliable place to get egg donation treatments.
However, fertility treatments are only available to married heterosexual couples; therefore, same-sex couples and single people cannot get fertility treatment in this country. Also, sex selection is done by the parents feeling.
The most important point about IVF with egg donors in Iran is that its maximum cost is $3400, covering medications, pre-op examinations, consultation charges, and doctor's fees.
Egg Donation Abroad; Legal Considerations
The IVF regulations vary in different countries, even in different states of a single country; therefore, for egg donation abroad, you should get help from an attorney or a fertility clinic that guides you through the legal processes of your fertility treatment. If you need to use donor gamete, surrogacy, or donor embryo, specify all your rights and the other party's duties in a legal contract well and clearly. You can contact Raadina Co. for a legal consultation about IVF with donor eggs in Iran.
How to Choose an Egg Donor Abroad?
The most reliable way of finding an egg donor abroad is through fertility clinics. The fertility specialists in such clinics screen the donors and run various tests to ensure they are physiologically and psychologically healthy. Generally, the egg donors are anonymous, and only some of their information is recorded in the fertility clinic.
However, some couples prefer to meet the egg donor and be in touch with her. If you intend to avoid contacting the donor, you can get information about her background (medical history, physical characteristics, education level, skills, etc.) from the clinic staff.
How to Find a Clinic for Egg Donation Abroad?
Finding a reliable and high-quality clinic for egg donation abroad is relatively easy, as you can search for them online and read their reviews. When choosing an IVF clinic, you must consider four points; its facilities, services, specialists, and costs.
The price of IVF clinics varies according to the services they offer and the facilities they own for embryo culture and preservation. If you have decided to get IVF with donor eggs in Iran, Raadina Team is ready to help you find the best fertility clinics with the most reasonable prices in this country.
Egg Donation IVF Success Rate in Iran
In Iran, the success rate of IVF with donor eggs is determined by the number of pregnancies and live births. Thanks to the expertise of fertility specialists, the quality of egg-freezing equipment, and mandatory pre-op tests and examinations, the success rate of IVF in Iran is 40% for women under 35. So, Iran should be on your list if you consider egg donation abroad.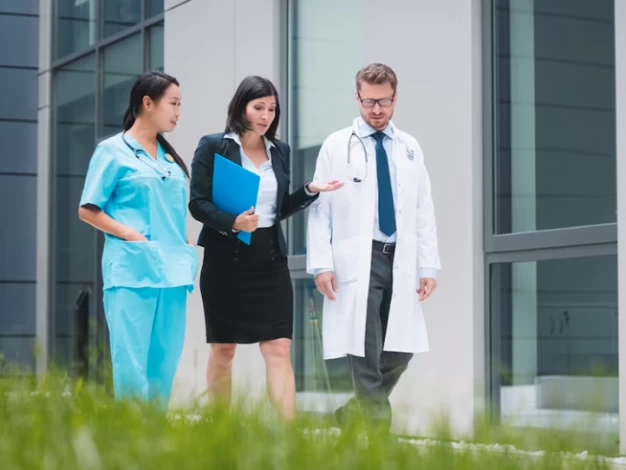 FAQs About Egg Donation Abroad
1) Which country is best for egg donation?
So far, Iran, the Czech Republic, Spain, and the U.K. have proved to be the best countries for egg donation IVF.
2) What is the cheapest country for IVF egg donation?
In Europe, the Czech Republic and Cyprus have the lowest IVF price, but generally, Iran is the cheapest country for IVF with egg donation.
3) Which country in Asia is best for IVF with donor eggs?
Regarding the quality of healthcare services and IVF success rate, Iran, South Korea, and India are the best countries for IVF with donor eggs.
4) Is there an age limit for egg donation abroad?
Each country has certain rules for donating egg and using it in assisted reproductive techniques. In most countries, the donor should be between 18 and 35, and the recipient should be maximumly 50.