Rhinoplasty is one of the most frequent surgical procedures to reshape the nose or improve its function. The rate of rhinoplasty or nose job is the highest in the world.
What Is Rhinoplasty?
A rhinoplasty or nose job surgery is one of the world's most common and popular surgical procedures. It involves a surgical procedure on the nose that deals with changing its shape or improving its function. During a nose operation, certain nose parts (bone and cartilage) are changed to make them more compatible with other parts of the face. Rhinoplasty is associated with maintaining the proper respiratory function, meaning that not only does the patient not get into trouble for breathing after the surgery, but also, if there is a breathing problem, it will improve.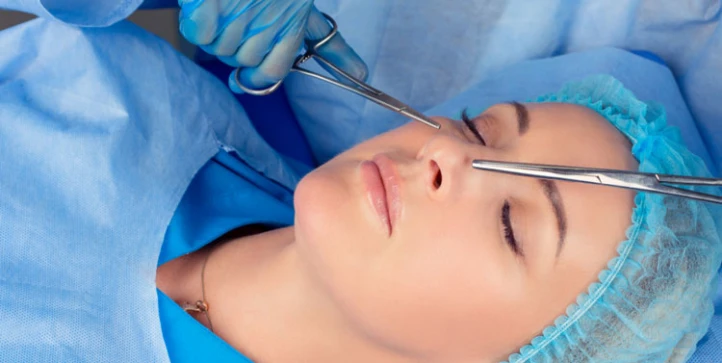 Best Candidate for Rhinoplasty Surgery
Anyone applying for rhinoplasty surgery may not be a good candidate for the surgery. Several reasons characterize a good candidate for nose job surgery, one of the most important is the skin type, so this operation is not recommended for every applicant.
For example, the nasal tip can hardly be made smaller in fleshy noses, which consist of skin, fat under it, and sebaceous glands. In these types of noses, the skin is thick, and the cartilage at the nasal tip is weak. The sebaceous glands under the skin are usually large, and the penetration of these glands into the skin layers has thickened the nose skin. During the operation, the surgeon cannot change the skin type, and most of what is done are on the nose's cartilage and bone. Therefore, the nasal tip in those with fleshy noses does not change much after the operation. The doctor will examine all aspects of a person's nose and, if necessary, explain the skin condition.
We should note that every nose with a big nasal tip is not classified as a fleshy nose. As mentioned before, if the nose's enormous size is due to its skin's thickness, we face these limitations. Otherwise, if the size of the nasal tip is due to the large cartilages, the nose is not considered fleshy and can be a good case for being treated.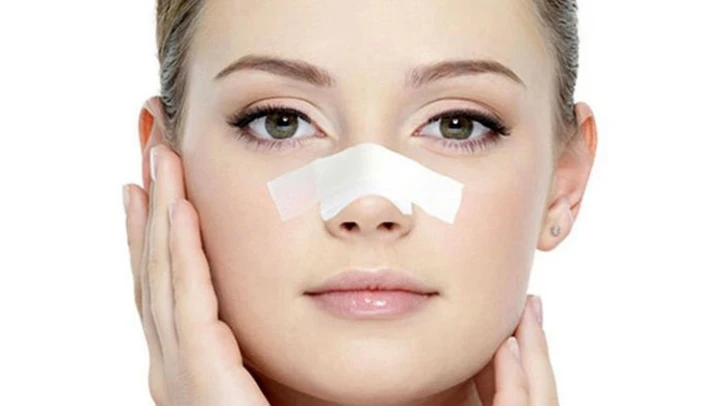 Who Is the Best Candidate for Rhinoplasty?
Anyone applying for rhinoplasty may not be a good candidate for the surgery. Several reasons are characterizing a good candidate for nose job surgery, one of the most important of which is the skin type, so this operation is not recommended for every applicant.
For example, in fleshy noses, which consist of skin, fat under it, and sebaceous glands, the nasal tip can hardly be made smaller. In these types of the nose, the skin is thick and the cartilage at the nasal tip is weak. The sebaceous glands under the skin are usually large, and the penetration of these glands into the skin layers has thickened the nose skin. During the operation, the surgeon cannot change the skin type and most of what is done are on the cartilage and bone of the nose.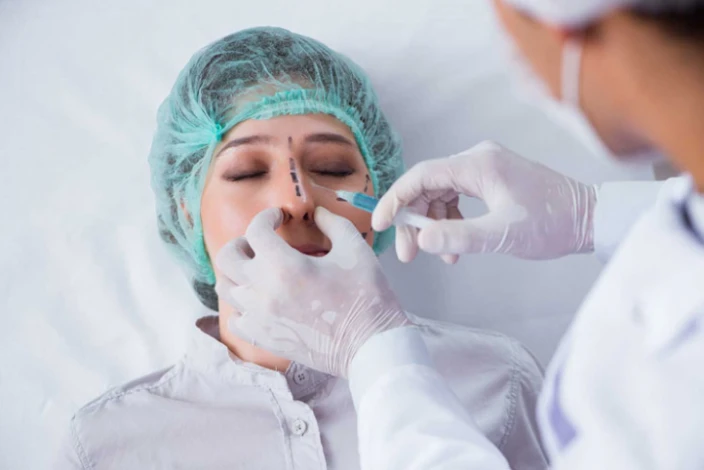 Rhinoplasty Surgery: How to Get Prepared
Before undergoing rhinoplasty, you need to consider the following tips:
Take the necessary lab tests and X-rays and provide the results to your surgeon a week before the surgery;
Consult with your doctor about your expectations and desired results;
Ask your surgeon to inform you about the potential risks and complications of a nose job;
Mentally prepare yourself for the surgery. You can use meditation and deep breathing techniques to reduce your stress;
Buy the things you will need after the surgery, such as a u-shaped pillow, ice packs, saline spray, tissue, and wet wipe, etc., in advance;
Avoid smoking and drinking alcohol from two weeks before the nose job;
Do not take ibuprofen and blood thinners such as aspirin before the surgery;
Avoid taking herbal supplements, vitamin E capsules, fish oil, and anti-inflammatory drugs before rhinoplasty as they increase the chance of bleeding;
Provide a complete medical history and if you have drug allergies, inform your surgeon before the surgery;
Use more fluids and nutrients;
Take a bath before the operation and do not eat or drink from 8 hours before the surgery;
Wear front closure clothes and avoid wearing tight and uncomfortable clothes;
Avoid wearing makeup and jewellery on the day of the operation;
Shave your beard and moustaches with a razor to prevent infection; and
Ask a family member or a friend to be your caregiver when you are in the hospital.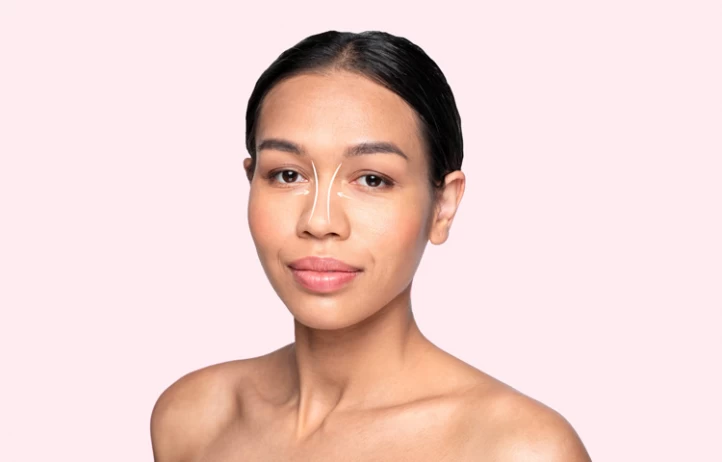 General Care after Nose Job
After doing a nose job, all patients should take the following general care to minimize surgery complications.
Put ice packs on your cheeks for up to 48 hours after the surgery to reduce swelling and bruising;
Avoid laughing and crying for at least two weeks;
Push air through your mouth when sneezing;
Avoid smoking and drinking alcoholic beverages for up to three months after the surgery;
Avoid having foods that require a lot of chewing for at least a week;
Do not wash your face as long as there is a splint on your nose;
Do not remove your splint and cast without your doctor's permission;
Use a wet wipe to clean your face;
Avoid exposure to direct sunlight;
Avoid swimming or using a sauna for six months;
Do not wear glasses for up to six months;
Avoid strenuous activities;
Avoid lifting, pushing, and pulling heavy objects;
From the third day onwards, you can do light works;
Avoid long conversations and phone calls for up to two weeks; and
To relieve pain, use only regular strength acetaminophen or codeine and avoid medications such as ibuprofen, aspirin, etc., after the surgery.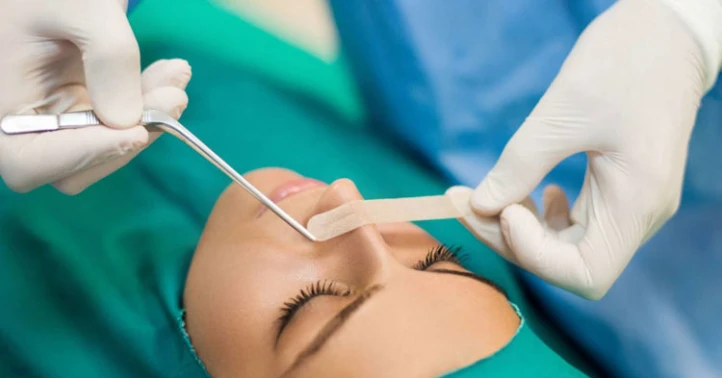 After Rhinoplasty: Step by Step
If you wonder what happens after rhinoplasty and how you should take care of your nose after the surgery, read the following passage.
After the nose job surgery, doctors will wrap up your nose, and two tampons are put inside your nasal cavity to prevent bleeding. Meanwhile, your caregiver must put a cold compress around your eyes and forehead to minimize the swelling and bruising around your nose.
After the surgery, you can only drink water and juice. Early hydration after rhinoplasty flushes anaesthesia from your blood flow and helps you regain your consciousness sooner. Feeling nauseous and dizziness is also common after rhinoplasty and can be controlled with the help of anti-nausea medications.
If everything goes well, you will be discharged from the hospital 24 hours after the operation. Since your face is bandaged and your eyes are half-closed, you cannot drive, so you need to ask someone to drive you home. At home, you should eat soft dishes and drink lukewarm fluids. Sleep in the supine position and put a few pillows under your head to suit your convenience.
A couple of days after rhinoplasty surgery
Eating easy-to-chew dishes for one or two days after a nose job is suggested. Mincing and smashing food can also help you swallow your food more efficiently. Do not wash your face for a couple of days after the nose job because you may get your splint and bandages wet. When the splints are removed, and the bandages are unwrapped, you can take a shower and wash your face. For some days after rhinoplasty, you may feel tightness and pressure in your nose, which is entirely normal. When the internal splints and tampons are removed from your nostrils, you will feel less pressure on your nose and breathe through your nose again.
When the swelling and bruising have healed, and the cast and sutures have been removed, your surgeon may prescribe repairing ointments to reduce suture marks under your nose.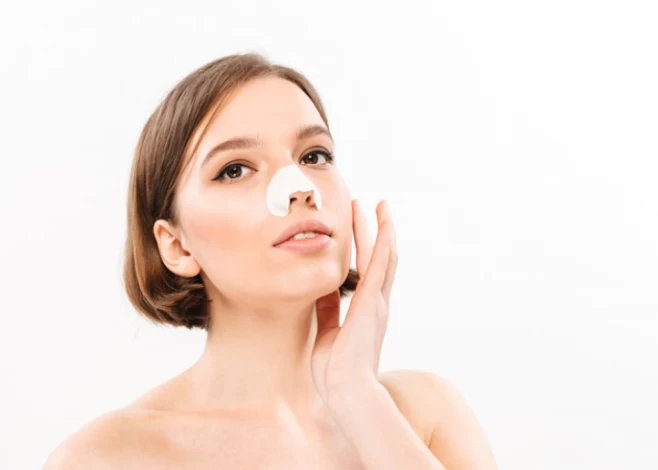 Taping the nose after rhinoplasty is of great importance because it prevents extra swelling and fixes the position of the tip of the nose. Usually, the patients have to tape their noses for up to 12 weeks. In the following weeks after rhinoplasty, you need to visit your surgeon frequently to get the position of your nose, its shape, and its cavity checked.
What to Eat after Nose Job?
About four hours after the nose job surgery, you can have non-acidic beverages and soft dishes such as apple juice and soup. You can eat regular soft foods like mashed potatoes and scrambled eggs from the day after the surgery.
For two weeks, avoid foods and fruits that require biting, chewing, and heavy jaw movement, such as apples, raw carrots, celery, chips, nuts, corn on the cob, etc. Also, it is recommended to avoid having milk, sour juices, spicy dishes, foods with too much sodium, and beverages with caffeine for a couple of days after the surgery as they may cause digestive problems and increase nasal swelling.
Cleaning Nose after Rhinoplasty
Two to four days after rhinoplasty may result in blood discharges from your nasal cavity. These discharges should be gently wiped with a towel or wet wipe. When cleaning your face, avoid inserting any object into your nose or holding pressure on the nostrils. Moreover, avoid blowing your nose for up to a month after rhinoplasty to prevent bleeding.
Rhinoplasty surgeons in Iran usually ask the patients to use dilute hydrogen peroxide, saline spray, or bulb syringe to clean their noses after the surgery. These products can be purchased from the drugstore and are easy to use.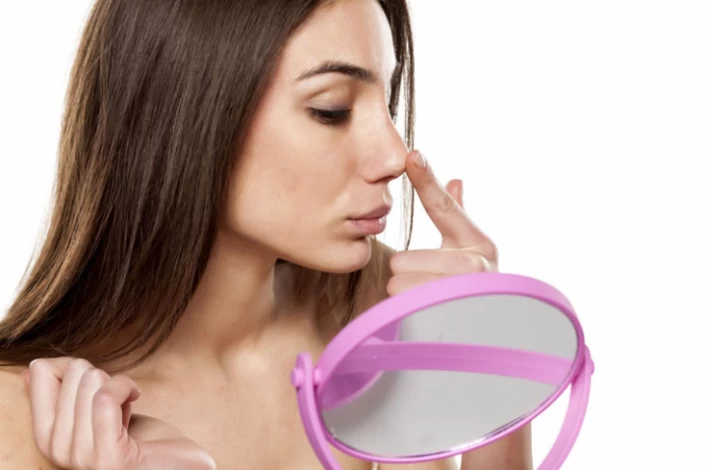 Exercising after Rhinoplasty Surgery
In most patients, it takes approximately six weeks for the nasal bone to heal after rhinoplasty. During this time, you should avoid strenuous exercises, pulling and pushing, lifting heavy objects, etc. Even simple movements such as stretching and bending can increase the swelling of your nose and change its shape. You can gradually start exercising six weeks after rhinoplasty; however, playing basketball and volleyball, diving into the water, or any other sport which may hurt your nose should be avoided for at least a year.
Wearing Glasses After Nose Job
Sunglasses, reading glasses, prescription glasses, or anything that holds pressure on your nose can increase bruising and swelling or even cause a dent. In this case, you will need a revision rhinoplasty. You can use contact lenses or the lightest frames possible if you have low vision. The splint placed on your nose after the surgery can also support your glasses; however, when it is removed from your nose, you cannot use glasses.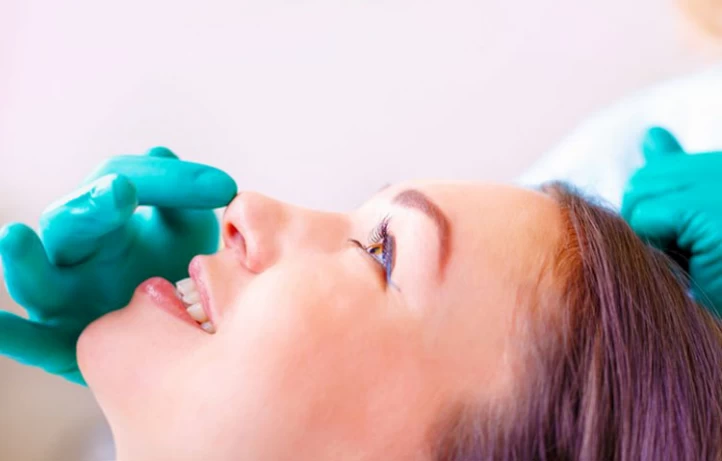 Scarring after Nose Job
Scarring after a nose job depends on several factors, the most important of which is skin type. In people with bright and thin skins, the scars usually fade away within two months; however, in patients with dark skin tone, the scars remain a bit longer, and sometimes keloids (extra flesh) develop on the incision site.
Usually, the scars of rhinoplasty disappear after several months, but, if your scars are permanent and visible, you can use one of the following treatments:
Injecting cortisone steroid shots;
Doing corrective surgery;
Using silicone sheets or silicone ointments;
Applying scar creams such as polysporin and bacitracin; and
Applying creams that contain vitamin A, E, Aloe Vera, collagen, and Vitamin C.
Revision Rhinoplasty in Iran
Revision rhinoplasty, also known as corrective rhinoplasty and secondary rhinoplasty, is performed to eliminate the nasal deficiencies that were not completely corrected in the initial rhinoplasty. In this surgery, the nostrils are symmetrized, the tip of the nose is repaired, the deviation of the nasal septum is corrected, respiratory disorders that have emerged after the first surgery are eliminated, and the dents on the nose are removed. If you are dissatisfied with the outcome of your previous nose job, you can perform a revision rhinoplasty in Iran at least a year after the first operation.
In some cases, the surgeon has to get a cartilage graft from the patient's ear or rib to correct and reshape the structure of the nasal tip. Therefore, the recovery period of corrective rhinoplasty is a bit longer. During this period, avoid going to crowded places and do the same things you did after your initial nose job.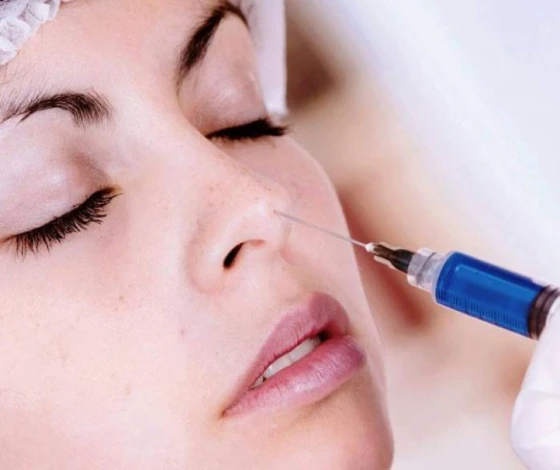 Why Doing Rhinoplasty in Iran?
In recent years, rhinoplasty has been done at high rates in Iran and has made the country a popular destination for rhinoplasty candidates worldwide.
One of the main reasons for a large number of rhinoplasties in Iran is the nasal anatomy of Iranians, which is different from European countries. For this reason, Iranians are more likely than other countries to apply for rhinoplasty.
In Tehran and several other cities, nose job operation is done by well-trained and skilful surgeons. Iran is a hot destination for cosmetic nose operations because of the high-quality clinics and hospitals, skilled and experienced surgeons, and affordable costs. Over the last years, some famous foreign celebrities have travelled to Iran for rhinoplasty, which shows that Iran can be regarded as a global rhinoplasty hub.
Iran Rhinoplasty Cost
You can benefit from all kinds of health services in Iran at a much more reasonable price than in other countries. Nose job surgery is also not very costly in Iran. Raadina Travel Co. offers affordable rhinoplasty packages whose prices vary due to several factors, such as the accommodation type and other services you receive.
To sum up, a nose job is one of the most popular plastic surgeries in the world, which can enhance your beauty to a great extra; you will achieve the best possible result from rhinos by carefully following the mentioned guidelines. The first and most crucial step in rhinoplasty is to choose an experienced and knowledgeable surgeon because it can directly affect the result of the operation.
Raadinahealth team, with years of experience in health tourism, can help you choose the best rhinoplasty surgeons in Iran and offers you the most appropriate package for a nose job.