Getting a hair transplant surgery can enhance your overall look and boost your self-confidence; however, you should first find a board-certified surgeon and a standard hospital to achieve outstanding results. Finding the best and cheapest country for hair restoration surgery can be difficult and tedious as people have various views about hair transplant success rates, and there is tons of contradictory information on the internet. If you plan to get hair transplant surgery abroad, this article can help you choose the best and most cost-effective country.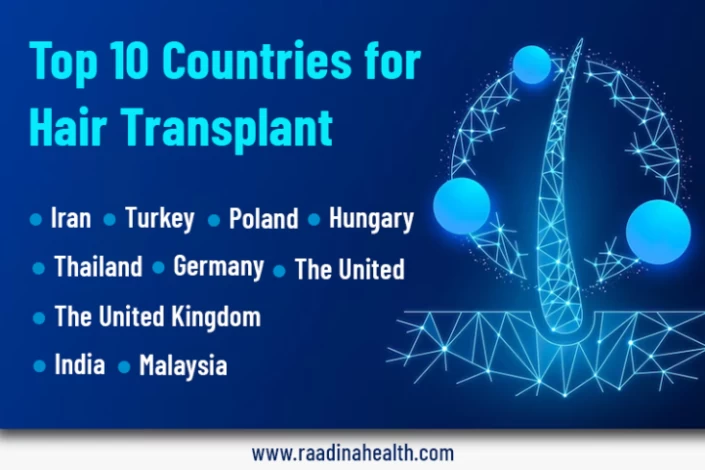 Top 10 Countries for Hair Transplant
According to patients who have undergone hair transplant surgery, the following countries have proved to be good destinations for this cosmetic procedure. People have rated these countries based on the quality of healthcare services, operation results, and surgery costs.
Turkey
In Turkey, hair restoration surgery has been done for more than 20 years; therefore, it can be said that the plastic surgeons in this country are experienced and expert enough to perform this operation with the highest accuracy. In addition, the cost of hair transplantation in Turkey starts from $2.500, but it may soar up to $7.500, depending on the type of operation, accommodation, and duration of stay in this country.
Poland
Poland is among the best European countries for hair transplant surgery as its clinics and hospitals own quality, modern facilities, and surgical devices. Also, the tremendous cost of hair transplantation in Poland has made it a good place for hair restoration surgery, especially for U.S. and E.U. citizens. On average, full hair transplant surgery in Poland will cost you $3.000 to $5.500, with accommodation and transfer included.
Hungary
Hungary is a historical country with rich culture and picturesque scenes and a desired place for getting hair restoration. This country is most famous for its minimal living expense and cost-effective medical procedures. For instance, the cost of hair transplants in this country ranges between 1.600 to 2.500 Euros, significantly lower than elsewhere in Europe.
Thailand
Regarding mastery of plastic surgeons and the quality of medical services, Thailand is one of the most recommended countries in Asia. Good flights, affordable accommodations, and mild weather have made Thailand a favorable country for hair transplantation all year. So, if you want to have your hair restored and have a luxurious vacation at the same time, Bangkok or Pattaya can be the perfect destinations for you.
Germany
Germany has numerous hospitals and clinics with the highest standards where board-certified plastic surgeons use error-free automated tools to achieve marvelous results. In fact, regarding the satisfaction rate of hair transplant surgery, Germany shines like a diamond in Europe and the world.
The United States
Many hair transplant clinics in the U.S. offer high-standard healthcare services and own the latest hair transplant technologies, which may not be found anywhere else. Depending on the state and city where you get hair transplantation, the cost of this operation ranges between $7.500 to $25.000; so, if you are looking for an affordable hair transplant, the United States is not a good option.
Iran
Iran is the best country for hair transplant surgery as there are countless hair clinics with present-day facilities and experienced plastic surgeons and dermatologists in this country who collaborate to achieve the most prominent, natural-looking results possible. Besides high-quality services, Iran is the cheapest country for hair transplant surgery as the cost of living and medical expenses are quite low, and you should pay just 800$.
The United Kingdom
Hair transplant surgeons in the U.K. are well-known for their expertise in transplanting many grafts in one treatment session. That's why many celebrities travel to this country to get a quick, quality operation. Depending on the extent of hair loss, the type of operation you get, and the reputation of your plastic surgeon, the cost of this surgery in the U.K. ranges between £2,000 to £15,000.
India
In India, you can benefit from extraordinary medical care, the experience of talented surgeons, and the latest hair transplant technologies at a fair price. Moreover, the accommodation and transfer prices are quite low in this country, so you can save hundreds of dollars by having cosmetic procedures there. The only problem with hair transplant surgery in India is that you should search a lot to find the best surgeon. Be careful not to trust unlicensed doctors, as you may face failed transplantation and its complications.
Malaysia
In addition to its beautiful nature and historical architecture, Malaysia has a high satisfaction rate in cosmetic surgeries, especially in hair transplantation. If you are struggling with pattern baldness, Malaysian doctors in Kuala Lumpur and Johor Bahru can help you have a natural-looking hairline. It should also be noted that the price of hair restoration in Malaysia starts from $4.000 and may increase to $6.000, which is quite fair compared to other advanced countries.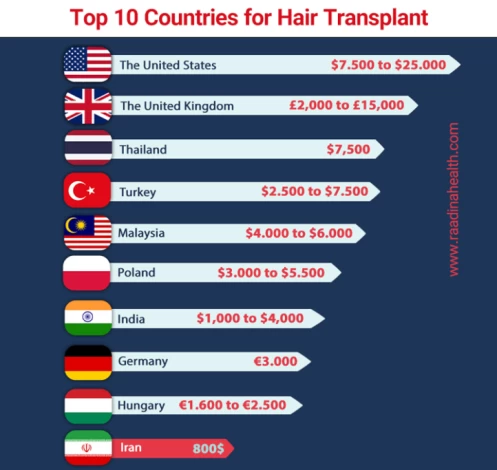 What Is the Cheapest Country for Hair Transplant?
So far, the cheapest country for hair transplant surgery is Iran, followed by Turkey and Greece. The cost of this operation in Iran depends on the number of grafts needed, the extent of baldness, the quality of grafts, the technique used, and the richness of the donor area. Having hair transplant surgery in reliable clinics in Tehran and Shiraz will cost you around $1.000 to $2.500. Remember that the low cost of hair transplant surgery in Iran does not imply its low quality of healthcare services. The reasons for an affordable price of hair restoration are fair surgeons' fees, low hospital charges, and low daily expenses.
Is Iran a Good Place for Hair Transplant Surgery?
Having adept surgeons and dermatologists, trained technicians, advanced technologies, quality facilities, low cost of transfer and accommodation, and high safety and quality standards has made Iran a popular destination for hair transplant surgery. Besides, you can enjoy visiting historical cities, lush jungles, and the azure seas of this country between your treatment sessions and while you are recovering.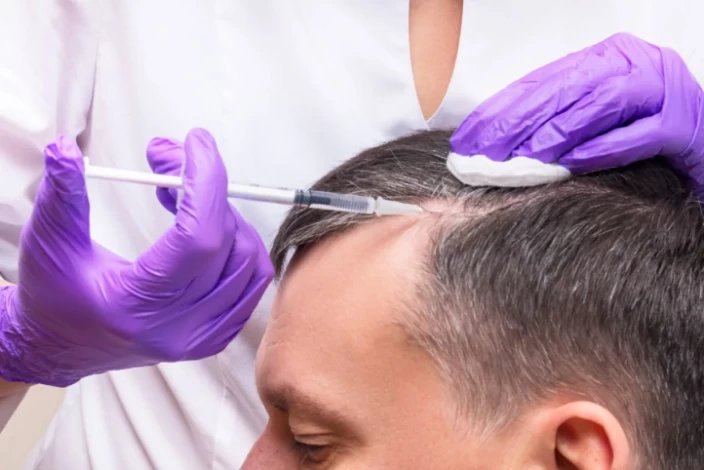 FAQs About Hair Transplant Abroad
1) Should I get a hair transplant abroad?
If it is hard to find a reliable and board-certified surgeon in your city or if hair transplant surgery is very costly in your country, consider having this cosmetic procedure abroad.
2) Which is better for hair transplant surgery in Iran or Turkey?
Both countries are reputable for their high success rate in plastic surgery, specifically hair restoration procedures. Although it is easier to travel to Turkey, the price of hair transplants in Iran is much lower.
3) What are the five cheapest countries for hair transplant surgery?
Iran, Turkey, Greece, India, and Mexico offer hair transplant surgery and post-op care at a very fair price.