Hair loss or baldness can happen for various reasons, such as poor nutrition, genetics, stress, certain diseases, hormonal imbalance, pregnancy, chemotherapy, and chemical exposure. Thin hair or losing the hairline affects people's overall look and may lower self-esteem. Today, different techniques of hair transplantation are being practiced, each suitable for a specific group of patients. So far, FUE, FUT, and DHI have proved to be the most successful hair transplant methods. In this article, we look at DHI hair transplant surgery and discuss its procedure, benefits, and side effects.
What Is DHI Hair Transplant?
Direct hair implementation (DHI) is a painless, scarless, and minimally invasive procedure devised by DHI Global Medical Group in 2005. DHI hair transplant is a modified and more advanced version of FUE, with more accuracy and a higher success rate. In this operation, the plastic surgeon or the dermatologist removes hair grafts from the donor part and transplants them in the bald parts of the head using a pen-like surgical tool. As this cosmetic procedure doesn't involve sutures, there would be no scarring during and after its recovery period.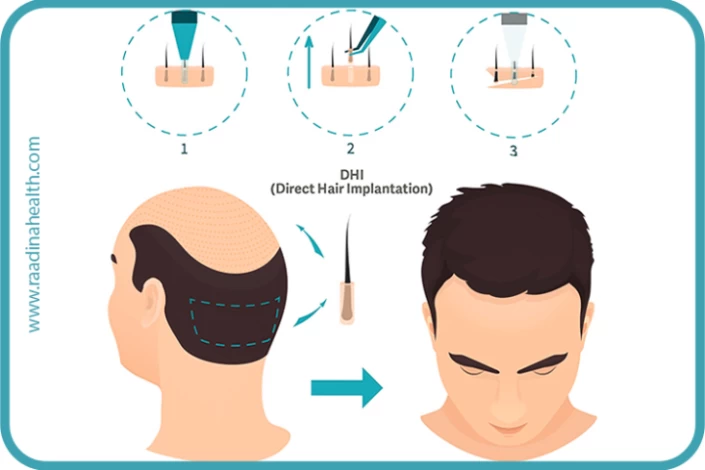 Who Can Get DHI?
The best candidates for DHI are the ones with androgenic alopecia, commonly known as male/female pattern hair loss. Furthermore, people should have the following features to be considered good candidates for DHI.
Be physically and mentally healthy;
Not having mental disorders such as body dysmorphia and trichotillomania;
Have realistic expectations about the results of the surgery;
Not having elevated blood pressure and blood coagulation disorders;
Not having lupus or skin cancer;
Be above the age of 25;
Have medium hair loss due to scars and burns;
Have thick hair strands in the donor part as they can cover the bald area better;
Have a dense and rich donor area;
Have a hair colour close to the scalp's tone.
How to Prepare for DHI Hair Transplant?
Preparing for direct hair implementation is similar to other hair transplant techniques. Read on to learn more about what to do before DHI surgery.
Stay away from tobacco products and alcohol for three weeks before the surgery;
Avoid taking blood thinners and anti-inflammatory medications;
Should you have food or drug allergies, tell your dermatologist before the operation;
Drink six glasses of water a day and have a healthy diet to prepare your body for the surgery;
Use moisturizers to keep your scalp's skin moist;
Massage your scalp for 10 to 20 minutes a day from a month before the surgery to increase the blood flow in it;
Purchase food, button-up clothes, a hat, medication, proper shampoo, and bandages before the surgery;
Wash your head with normal shampoo on the morning of the operation; and
Wear comfortable button-up clothes on the day of the procedure.
In addition, you should take the following tests before DHI.
Complete blood test to determine your blood pressure and sugar level;
Blood coagulation test;
Test for infectious diseases;
Test for immune system deficiency.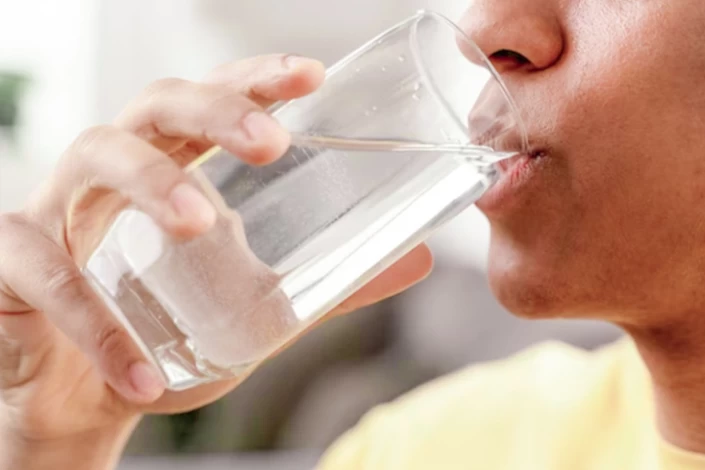 DHI Hair Transplant Procedure
Depending on the extent of the bald area and the number of follicles that should be implanted, the DHI hair transplant surgery takes almost 8 to 12 hours to finish. This operation involves four steps:
Anesthesia:

the surgeon shaves the head and numbs the scalp using topical lidocaine or injecting thin needles under the scalp's skin. Usually, two or three injections are made in three to four hours.

Extracting the grafts:

once the scalp is numbed, the doctor extracts hair follicles from the back or sides of the head (donor area) using an extracting forceps with a pointy tip.

Transplanting the grafts:

after extraction, the hair follicles are immediately placed in a pen-like surgical tool and are implanted into the balding area. This tool scratches and transplants the grafts simultaneously, so direct hair implementation has higher speed and accuracy than other hair transplantation techniques.

Wrapping the operated part:

at the final stage, the doctor applies antibiotic creams and wraps the whole scalp with a bandage. Since no incision is made in any part of the scalp, no suture is needed during this procedure.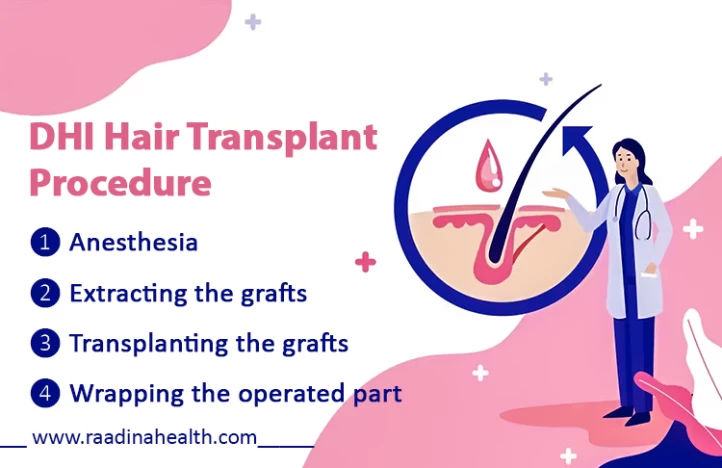 What Should You Expect After DHI?
DHI hair transplant is a minimally invasive procedure under local or topical anesthesia, so you can return home on the same day of the surgery. You should expect mild to moderate pain, redness, swelling, bruising, itchiness, and bleeding for 48 hours after the operation. If your pain is unbearable, your surgeon suggests you can take pain medications.
DHI Recovery and Post-Op Cares
The DHI recovery time may take two to four weeks, depending on the extent of your surgery and how well your scalp's skin reacts to the transplantation. Most patients can return to their daily routine within three days but must consider the following points while recovering.
Avoid smoking and drinking;
Do not rub, apply pressure, or scratch the operated part;
When sleeping, cover your head with a soft hat or scarf;
Use silk pillowcase to minimize friction;
Place two pillows under your head when sleeping to minimize the swelling;
Refrain from any activity that elevates your blood pressure, including having sexual intercourse, running, and climbing stairs too fast for 10 days;
Take a full course of antibiotics to prevent infection;
Apply ointments and creams as you have been instructed;
Wash your head only with prescribed shampoos;
Avoid using a hairdryer unless your doctor allows you to;
Avoid strenuous activities;
Avoid too cold places;
Avoid sun exposure and dusty places; and
Stay hydrated all day long.
DHI Hair Transplant Risks and Side Effects
DHI is a low-risk procedure, but you may face the following side effects while recovering.
Infection at the donor site and recipient area;
Mild bleeding;
Scalp dryness;
Reaction to anesthesia which emerges in the form of itchiness, redness, and excessive swelling of the scalp;
Mild to moderate pain;
Increased heart rate;
Swelling of the whole scalp; and
Undesirable appearance of the hair.
Hair Growth Timeline After DHI
Month 1 after DHI
The hair follicles rest for a month after direct hair implementation, so you will not see any hair growth during this time. However, you will have less swelling, scabbing, pain, and itchiness during this time.
Month 2 after DHI
From the beginning of the second month following the surgery, you can see thin, pale hair strands growing in the recipient area. At this time, you should be more careful not to hurt your scalp and follicles as they are very vulnerable.
Month 3 after DHI
Three months after direct hair implementation, you will face the most unpleasant complication of DHI, i.e., shock loss. In this period, the newly implanted hair will suddenly fall out, but you should not be worried as the roots of these hair strands are still in their place and will regrow very soon.
Month 4 and beyond after DHI
The final results of direct hair implementation will be revealed 4 to 6 months after the surgery. From the fourth month onwards, the new hair will regrow, thicken, and cover your whole scalp. You can use normal shampoos and hair conditioners now; wearing a hat is unnecessary when you go out.
DHI Success Rate
Transplanting hair follicles using the DHI technique has a more than 95% success rate as the graft survivability in this technique is quite high. The success rates of all hair transplant surgeries depend on the accuracy of the surgeon, the quality of the grafts, and the surgical tools used in the operation. In DHI, the grafts are injected into the skin by a high-quality and precise device right after being harvested, and you probably achieve marvellous results after this operation.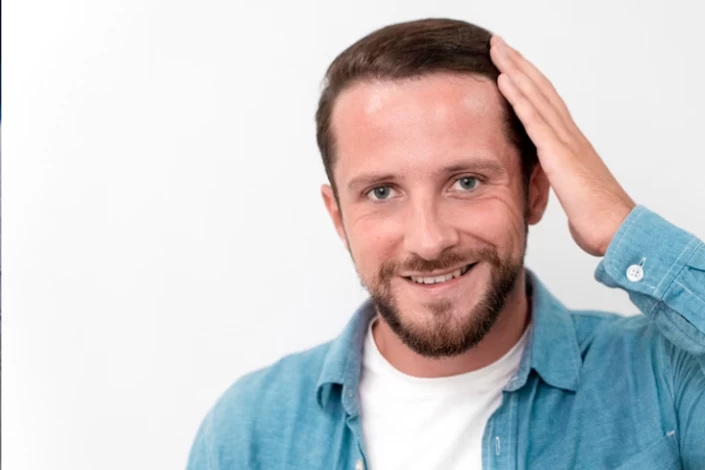 DHI Vs. FUE Hair Transplant
DHI and FUE are the two most popular hair transplant surgery techniques, which have many similarities and one slight difference. The only difference between these two methods is how the hair grafts are implanted into the scalp's skin. In FUE, the surgeon makes tiny incisions in the recipient area and implants the grafts manually; however, in DHI, the surgeon uses a pen-shape tool (called the Choi Implanter Pen) to make small holes in the skin and implant a group of follicles simultaneously. The surgical instrument used in DHI increases the speed and accuracy of this technique and makes it a scarless procedure.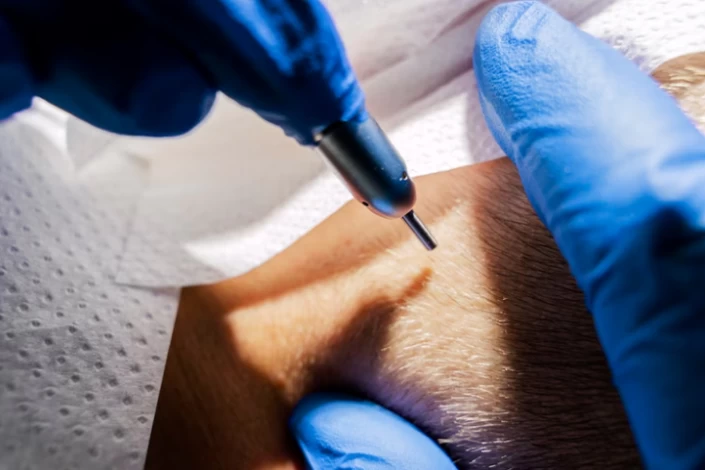 DHI in Iran; Advantages and Price
In Iran, various methods of hair transplant surgery, such as FUE, FUT, DHI, flap surgery, and scalp reduction, are done by the hands of the world's greatest plastic surgeons and dermatologists. Iran also has modern clinics and hospitals equipped with advanced surgical devices which offer high-quality healthcare services to domestic and foreign patients. Last but not least, the cost of DHI in Iran is way more reasonable than in other countries. If you want to know about the cheapest countries for hair transplants, read this article.
FAQs About DHI Hair Transplant Surgery
1) Which one is better, FUE or DHI?
The procedure of FUE and DHI are quite the same, with only one difference. In FUE, the harvested grafts are manually transplanted in the recipient area, but in DHI, a pen-shaped tool places the grafts in the bald area. So, DHI is faster and more accurate than FUE.
2) What happens a year after DHI?
A year after DHI, your swelling and scabbing are all gone, and you will have thick, dense hair.
3) How long does a DHI hair transplant last?
The final results of DHI will be visible 4 to 6 months after the surgery and last a lifetime.
4) Can a DHI hair transplant go wrong?
In some rare cases, the scalp rejects the new grafts, and the hair grows unevenly. A revision DHI is needed to restore the lost hair follicles in such cases.
5) Does DHI look natural?
Since the above-mentioned surgical tool places the hair follicles at a specific angle and depth, the results of DHI are natural-looking.