Before breast augmentation, many questions will be in your mind, which is quite normal. To achieve a remarkable result, the surgeon's expertise and the patient's special care are needed, so you should be careful about what to do and what to avoid before this operation. If you wonder how to prepare for breast augmentation surgery, this article will help you.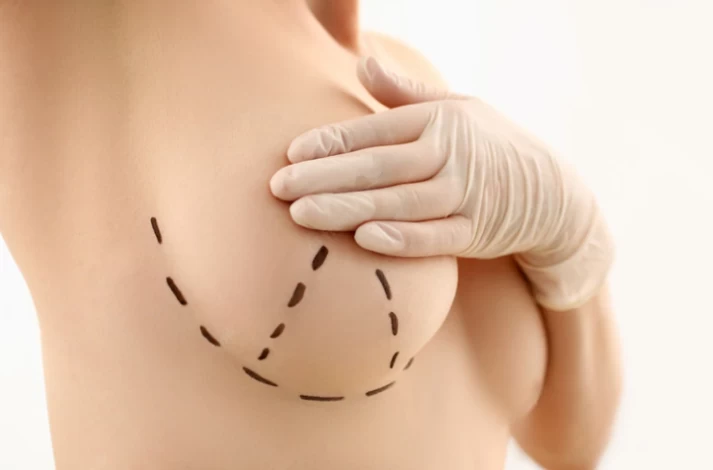 What Is Breast Augmentation?
Breast augmentation, also known as a boob job and augmentation mammoplasty, is a plastic surgery that aims to increase the size and volume of the breasts and give a better shape to them. In this operation, the surgeon incurs under the breast or around the areola to place a silicone or saline implant under the breast tissue. These implants make the boobs look bigger, firmer, and shapelier. Although a safe procedure, a boob job carries some potential risks and complications, such as pain in the chest, scarring, infection, change in the nipples' sensation, implants' leakage or rupture, and breasts unevenness. If you want to know about different types of breast implants, read this article.
Important Points to Know Before Boob Job
One of the most important points about a boob job is having realistic expectations regarding its outcomes and complications. Before deciding to get a breast augmentation, consider the following points.
Breast augmentation will not prevent breasts' sagginess in the future. The breast muscles and tissues will naturally get loose due to aging, gravity, and hormonal changes. Although breast implants prevent breast sagginess to a great extent, the tits will still get droopy over time.
Breast implants have a limited life span. Even if they do not rupture or leak, they must be replaced every 10 to 15 years.
You will need more mammogram tests. In addition to annual mammograms, you should get one or two yearly mammograms to check the breast tissues. MRI screening should also be repeated every 3 years to screen for silicone breast implant rupture.
Breast augmentation may hinder breastfeeding in the future. If you intend to nurse your child in the future, you should know that sometimes, the milk ducts and nipples are impaired during the boob job, so you may not be able to breastfeed after the operation.
Removing the breast implants requires another surgery. You should undergo another surgery if you decide to undo your boob job. Also, you probably require a breast lift operation after removing breast implants as your boobs will sag.
Breast augmentation is a costly cosmetic procedure; most insurance plans do not cover it. However, if you get this operation for medical purposes, for example, after a mastectomy for breast cancer, your insurance probably covers it partially or completely.
Preparing for Breast Augmentation
Preparing physically and mentally for breast augmentation helps you achieve better outcomes. Read the following to learn how to prepare for breast augmentation.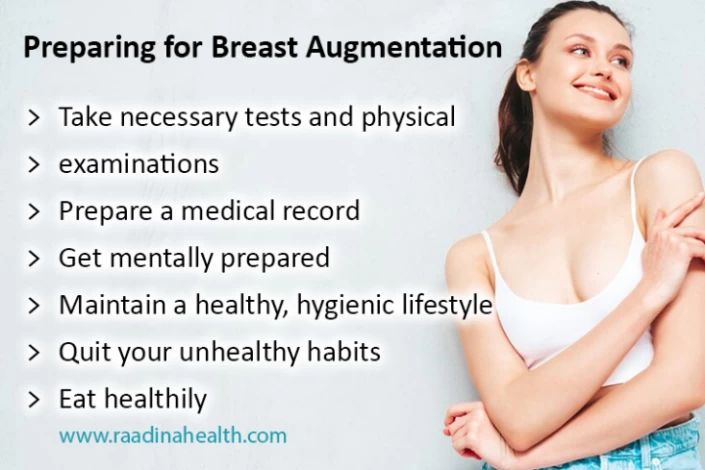 Take necessary tests and physical examinations.
Before breast augmentation, your surgeon performs several physical examinations to check your breast tissues and skin quality. Also, they will ask you to perform multiple blood tests, mammograms, and X-ray screenings to check the breast tissues and vessels and detect serious health conditions such as high blood pressure, diabetes, anemia, and hemoglobin disorders.
Prepare a medical record.
Before scheduling your surgery appointment, provide your surgeon with a detailed medical history containing your previous surgeries, chronic diseases, congenital disorders, allergies, and current or previous medications.
Get mentally prepared
Your body will significantly change after breast augmentation, so you should be confident about your decision. Also, great changes in your boobs will attract so much attention to your upper body; therefore, you must be mentally prepared for positive and negative comments.
Maintain a healthy, hygienic lifestyle.
For a couple of weeks before the boob job, be more physical, drink more water, wash or sanitize your hands and stuff repeatedly throughout the day, and avoid people who are sick. A minor cold or flu may force your healthcare provider to reschedule your operation.
Quit your unhealthy habits.
Smoking, drinking alcohol, a sedentary lifestyle, sleep deprivation, and over-eating are unhealthy habits that should be avoided before breast augmentation. Any tobacco product, including cigarettes, vapes, gums, and patches, should be avoided for at least four weeks before the procedure. Moreover, drinking alcoholic beverages, even light beers, should be avoided as they can impede the healing process and affect the results of your surgery.
Prepare, purchase, and plan.
Breast augmentation is a major operation and has a challenging recovery. Thus, you should get at least two weeks off from work and run errands before the operation, as you may be unable to leave the house for several days. If you have children or pets, ask someone to help you care for them and do your household chores. Also, purchasing necessary medications, ointments, sterile dressings, comfy cushions, lots of toilet paper, tampons and pads, food, paper plates, cutlery, and comfortable clothes before the operation helps you prepare for what's to come.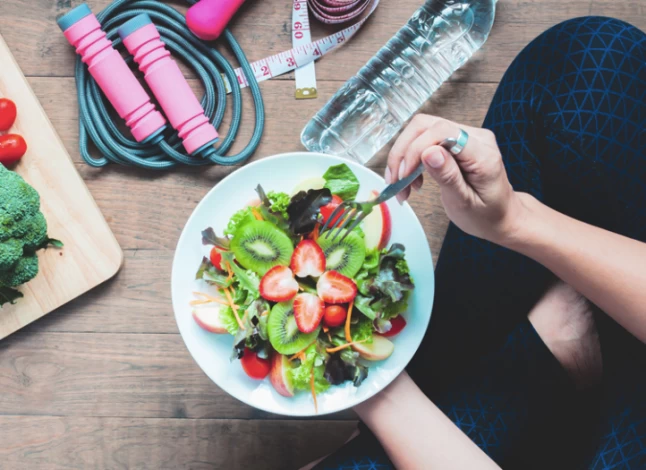 Eat healthily
A healthy, balanced diet before breast augmentation is essential for a convenient recovery. Malnutrition, overeating, and not taking necessary supplements and vitamins can adversely affect your overall health and hamper your healing process. Restocking your fridge with many healthy, nutritious dishes and fresh juices is also suggested because you cannot cook or move your arms freely for several days.
Be mindful of the medications you take
If you are currently taking certain medications, inform your doctor so that they can adjust, cut out, or increase them. Also, before the operation, you should avoid taking aspirin, anti-inflammatory drugs, vitamin E, herbal supplements, estrogen medications, and birth control pills.
Have a moderate exercise routine
A fitness routine from months before boob job surgery enhances your posture and strengthens your upper body; however, vigorous exercises may hurt your shoulders, back, arms, and breast muscles. So, keep your workout moderate but ongoing.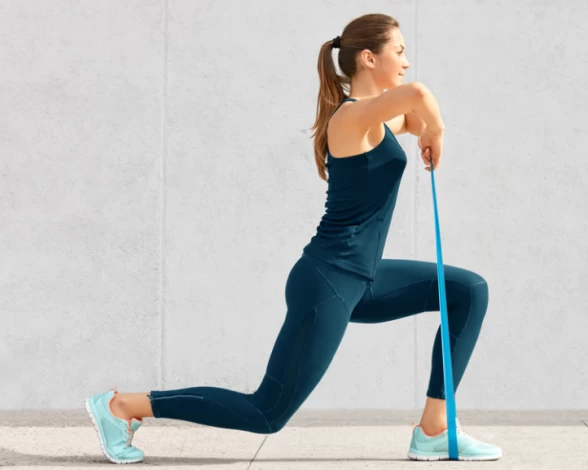 Prepare your favorite entertainment.
After boob job surgery, you will have at least two weeks of downtime. Preparing entertainment beforehand is important so you don't get bored and anxious during recovery. Get plenty of books, movies, and board games, or take an online course to keep busy.
Things to Do on the Day of Breast Augmentation
In the following, the most important things that you should do on the day of breast augmentation are mentioned:
Take a shower and use anti-bacterial, fragrance-free soap to clean your hair and body;
Do not use moisturizers, scrubs, and body lotions right before the operation;
Avoid wearing makeup, perfume, deodorant, nail polish, jewelry, and contact lenses;
Stay calm and avoid negativity. The day of breast augmentation surgery can be stressful for some people as they are having a major operation and will face great changes afterward. However, it is important to stay calm before the surgery because stress and anxiety will negatively affect your immune system;
Bring your ID, a letter from your surgeon, your medications, the results of your tests and examinations, your insurance card, a book, your reading glasses, and your mobile charger with you;
Wear clean, loose-fitting, and zip-up clothes. Do not wear turtlenecks and pullovers, as you cannot take them out easily after the procedure. Also, bring a pair of slip-on shoes and clean socks so you can wear them in the hospital and on the way home and
Do not eat or drink for at least 8 hours before the surgery. You can only drink a small amount of water if you have to take medication. Avoid having gum, mints, and gummy candies on the day of a boob job.
Consultation Session Before Boob Job Surgery
A couple of days before boob job surgery, you will have a consultation session with your surgeon. In this appointment, you can discuss your expectations and concerns and ask your questions about the procedure, risks, and recovery of this surgery and the type and brand of breast implants that will be used in your operation. If you intend to get pregnant or breastfeed in the future, you should inform your healthcare provider during this appointment.
Moreover, the surgeon may ask questions about your medications, allergies, previous operations, and breast problems, such as cancer, cysts, necrosis, smoking history, and skin quality. Sometimes, the doctor also takes pictures to add to your medical file.
Breast Augmentation in Iran
Breast augmentation is the best method to restore the lost volume of breasts and make them look youthful, fuller, and firmer. However, just like other cosmetic procedures, this operation requires the experience and expertise of a proficient surgeon completely familiar with different surgical techniques and breast implant functions. In Iran, the boob job is a popular operation and widely practiced in different cities; therefore, you can be assured that Iranian plastic surgeons are skilled and can fulfill your expectations.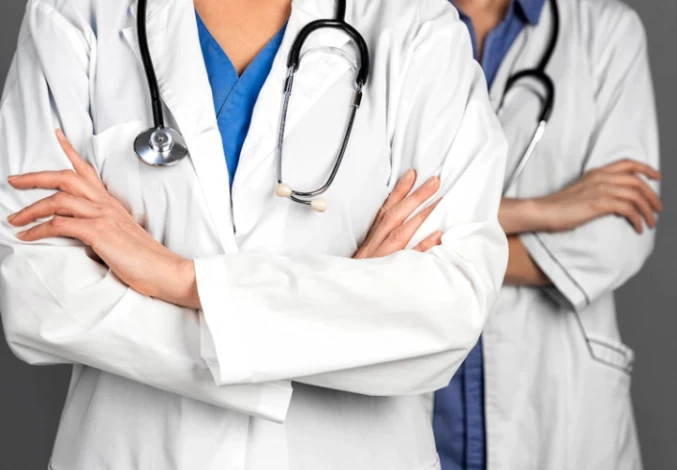 FAQs About Preparing for Breast Augmentation
1) What should you not do before breast augmentation?
Smoking tobacco and marijuana, drinking alcohol, having a poor diet, and taking blood thinners or herbal supplements should be avoided before breast augmentation.
2) Should I shave before breast augmentation?
Wax or shave your armpit and areas around your breasts 48 hours before the boob job. Shaving right before the procedure increases the risk of infection.
3) What should I do the day before the boob job?
Take off your piercings and jewelry, remove your nail polish, drink plenty of water, and prepare the things you need in the hospital.