A reverse tummy tuck, also known as reverse abdominoplasty or upper abdominal lift, is a surgical procedure that aims to improve the appearance of the upper abdomen. It is often performed with a traditional tummy tuck surgery to address excess skin and sagging in the upper abdominal area.
A reverse tummy tuck can be suitable for individuals who address excess skin and sagging in the upper abdominal area.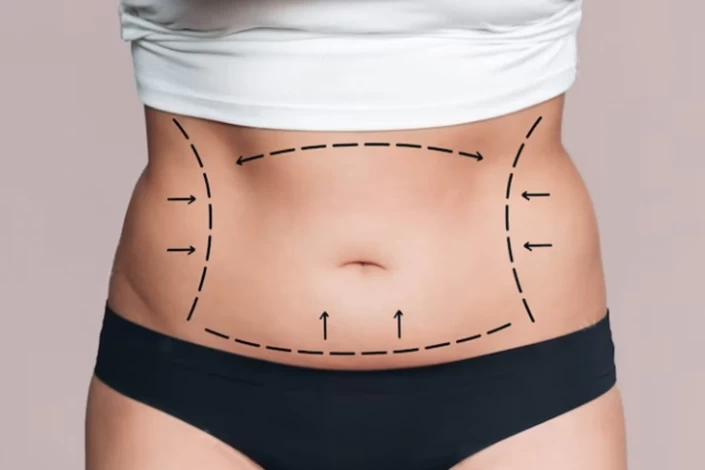 How Reverse Tummy Tuck Is Done?
The procedure is typically performed under general anesthesia, during which the surgeon incurs along the lower breast crease or just below the breasts. Once the incision is made, the surgeon will lift the excess skin in the upper abdominal area. The surgeon will then tighten the skin and remove any excess if necessary. In some cases, underlying muscle laxity may also be addressed by suturing the muscles to create a more toned appearance.
After the excess skin has been lifted and tightened, the surgeon will carefully close the incisions using sutures or surgical staples. They may also place drains to help remove any excess fluid or blood that may accumulate during the healing process.
The entire procedure typically takes a few hours to complete, depending on the extent of the surgery and any additional procedures being performed.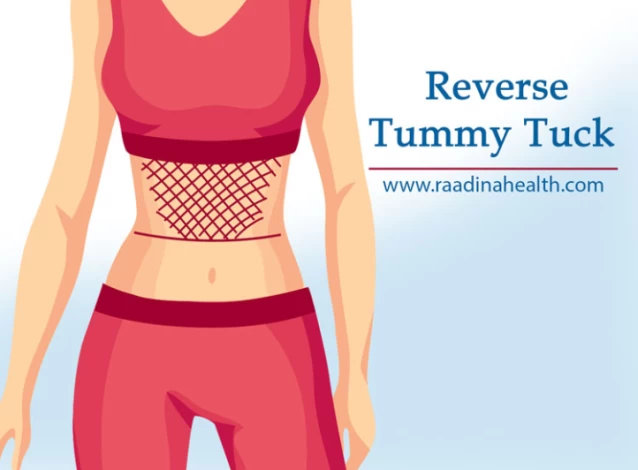 Who Is a Good Candidate for a Reverse Tummy Tuck?
Good candidates for a reverse tummy tuck are those with excess skin and laxity in their upper abdominal area, typically caused by weight loss, pregnancy, or aging.
Ideal candidates for a reverse tummy tuck are individuals who:
have loose or sagging skin in the upper abdomen;
do not have significant excess fat in the abdominal area;
have good muscle tone and minimal muscle separation;
are at a stable and healthy weight;
have realistic expectations about the results of the procedure;
are non-smokers willing to quit smoking before and after surgery, as smoking can impair healing.
What to Expect After a Reverse Tummy Tuck?
There will be some swelling, bruising, and discomfort in the treated area for two weeks after a reverse tummy tuck. The surgeon will prescribe pain medication to manage any discomfort. Post-operative instructions for a reverse tummy tuck can include avoiding strenuous activities and heavy lifting for 4-6 weeks. Patients should wear a compression garment to help minimize swelling and support healing.
Scarring is inevitable in any surgical procedure, including a reverse tummy tuck. However, the surgeon will make every effort to minimize scarring and may provide instructions on scar care to help optimize the healing process.
Maintaining a healthy lifestyle, including regular exercise and a balanced diet, is important to maintain the long-term results of the reverse tummy tuck.
The initial results of a reverse tummy tuck may be noticeable immediately after surgery. Still, it may take one full year for the final results to become apparent as the swelling subsides and the tissues settle into their new position.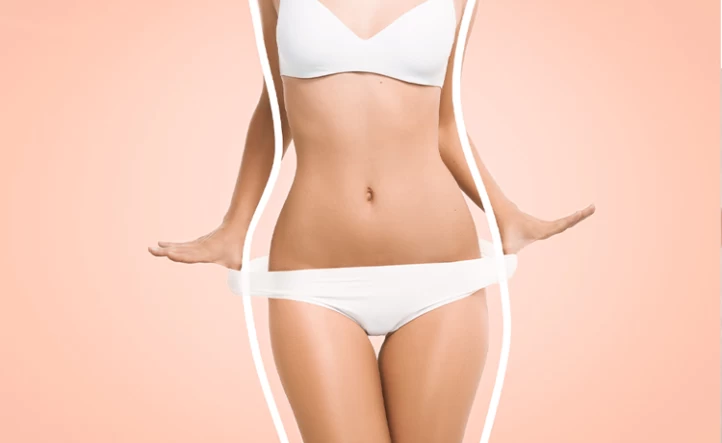 How Is Recovery from a Reverse Tummy Tuck?
Recovery from a reverse tummy tuck can vary from person to person, but generally, it lasts between one and two weeks. Patients should wear a surgical bandage for several days to help support the new abdominal contour. Some bruising, swelling, and tenderness may resolve gradually during the first two weeks. Light activities are allowed; however, patients must avoid strenuous activities for about 6 weeks.
Is a Reverse Tummy Tuck Painful?
During a reverse tummy tuck, the incisions are typically smaller, and the abdominal muscles are not manipulated as extensively as in a traditional tummy tuck. This can result in less pain and a shorter recovery time. Nonetheless, some discomfort and pain can still be expected after the procedure. Pain medication and proper post-operative care can help manage any discomfort during recovery.
What Are the Potential Risks of a Reverse Tummy Tuck?
A reverse tummy tuck has potential risks and complications like any surgical procedure. Some of these risks include:
Infection
Seroma
Numbness
Asymmetrical results
Blood clots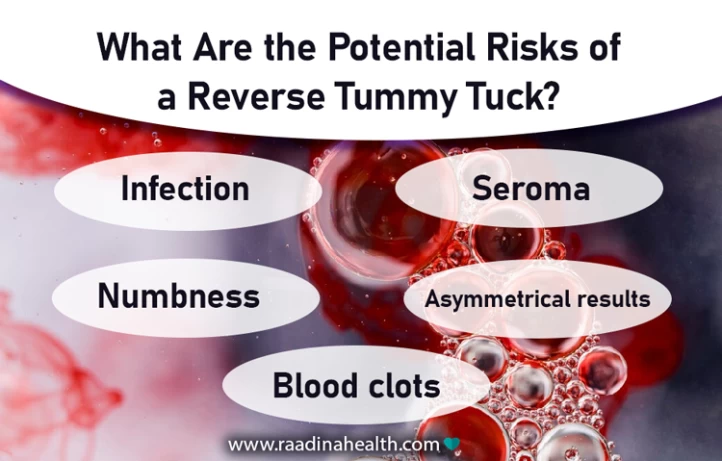 Infection
There is a risk of developing an infection at the incision site. This can usually be treated with antibiotics, but additional surgery may be required in severe cases.
Seroma (hematoma formation)
A seroma, a fluid collection, can occur after the surgery and may require drainage to prevent complications.
Numbness or altered sensation
Some patients may experience temporary or permanent numbness or altered sensation in the abdominal area. This is typically due to nerve damage during the surgery.
Asymmetrical results
Despite the surgeon's best efforts, there is a possibility of not achieving the desired aesthetic outcome. Patients must have realistic expectations and communicate their goals with the surgeon before the procedure.
Blood clots
There is a small risk of developing blood clots after the surgery, which can potentially lead to a pulmonary embolism. Early ambulation, compression stockings, and blood thinners can reduce the risk.
Is a Reverse Tummy Tuck Right for You?
Whether a reverse tummy tuck is right depends on various factors, including your concerns, goals, and overall health. You can schedule a consultation with us at Raadina Health to link you to our well-experienced board-certified plastic surgeons in Iran to discuss your needs and issues and determine your best course of action.