After the tummy tuck surgery, all patients want to return to everyday life as soon as possible; however, recovering from abdominoplasty requires patience and perseverance. The speed of your healing process depends on factors such as age, general health, body weight, and the technique your surgeon practiced. Suppose you are concerned about the results, complications, warning signs after a tummy tuck, and instructions for the tummy tuck recovery. In that case, you can find the answers to your questions in this article.
How Is Recovery after Tummy Tuck?
Tummy tuck recovery is more challenging than other body plastic surgeries, such as liposuction and breast augmentation. After a tummy tuck, you will have moderate to severe pain, which OTC and prescribed medications can control. Also, you probably experience numbness, skin tingling, burning sensation, lumps and bumps, swelling, and bruising for weeks after the operation. Fortunately, most of the abdominoplasty's discomfort will diminish within a few weeks, except for swelling that may persist for up to 6 months. If you want to know more about the tummy tuck recovery period, continue reading.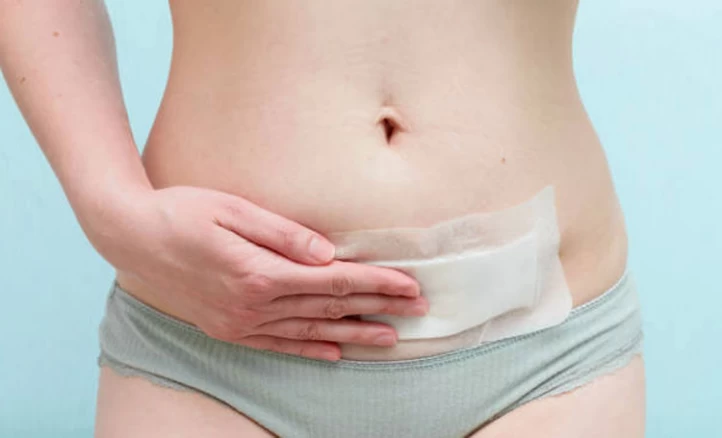 What to Expect During Tummy Tuck Recovery?
After being discharged, you must rest at home for a few weeks. In the tummy tuck recovery period, you should take painkillers and -if needed- anticoagulants. It isn't easy to bend, stand, and lift something a few days after the surgery, so having a caregiver by your side is better. However, it would help if you had mobility at home, so walk around the house daily to prevent blood clots in the abdominoplasty recovery period.
Tummy Tuck Recovery Timeline
Right after Tummy Tuck
After the surgery, a surgical dressing will cover your stomach to prevent contact with clothes and bleeding. Your doctor may recommend you sleep at a specific angle to feel less pain, and your drainage tube will not move.
The first week after the tummy tuck
In the first week after a tummy tuck, you may have pain, bruising, swelling, and excess discharges, all of which can be controlled by taking medication and wearing special garments and bandages. During the first week of tummy tuck recovery:
Have a balanced diet and avoid foods rich in sodium;

Wear and replace your bandage just as your surgeon has suggested;

Avoid taking a shower for a couple of days, especially if you have drains;

Avoid smoking and drinking alcohol;

Do not do chores;
Follow your prescribed medications;
If you have drains, make an appointment to remove them;
Avoid driving, even for short distances;
Do not stay in bed all day. Walk gently around the house or the hospital ward;

Do not do strenuous activities such as biking, driving, lifting, pushing and pulling heavy objects, etc.;

In case of unbearable pain, take prescribed painkillers and use an ice compress;

Drink plenty of water;

Avoid bending and jumping, and

Ask someone to be your caregiver during the abdominoplasty recovery period.
The second week after the tummy tuck
During the second week after a tummy tuck, you'd better continue your diet to achieve the desired result. Although pain, swelling, and bruising subside this week, you may need to continue taking medications and wearing compression garments. Moreover, during the second week of tummy tuck recovery:
Apply anti-scar ointments and silicone sheets to minimize scarring;
Avoid smoking and drinking;
Avoid having sex;
Reduce sodium intake;
Avoid doing heavy exercises and chores;
Take a walk for a few minutes every day to increase your blood flow;
Massage the operated area twice a day to speed up the healing process;
If your job is not physically demanding, you can get back to work and
Stay hydrated all day long.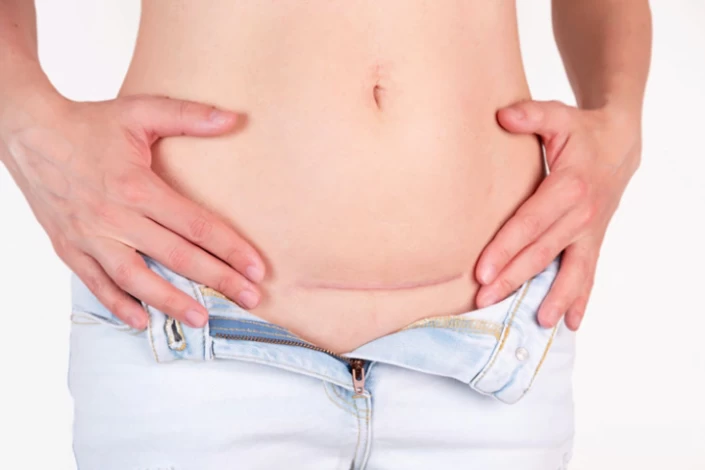 Third and fourth week after tummy tuck
Almost three to four weeks after the tummy tuck, you can have a regular diet and exercise as before. However, avoiding strenuous exercises such as weightlifting and mountain climbing is suggested for at least six weeks after the surgery. Also, wearing a compression garment for a month after the operation is better for achieving your desired contour. Although your pain should be gone by the fourth week, you may still experience discomfort when getting up from bed, sitting straight, or driving. Therefore, avoid long trips and sitting for hours.
The fifth and sixth weeks after tummy tuck
From the fifth week onward, you can enjoy the outcome of your surgery as the swelling has subsided greatly and the muscles are more apparent. At this stage, you can return to your daily exercises, driving, and having intercourse.
Do's and Don'ts After Abdominoplasty Surgery
After abdominoplasty surgery, you should rest for 1 to 4 weeks until you recover completely. However, age, type of surgery, general health, and post-surgery care can affect the tummy tuck recovery duration. After a tummy tuck, it is necessary to take the following care:
Avoid air travel for at least three weeks after the surgery;
Maintain good personal hygiene to reduce the risk of infection;
Clean the incision area with lukewarm water and fragrance-free soap every day;
Avoid using skin products containing alcohol and paraben;
Avoid lifting weighty objects for at least two weeks;
Call a doctor in case of active bleeding during the first two weeks after the surgery;
Avoid taking any nicotine from one month before the surgery until the end of the recovery period;
Stroll and avoid absolute rest to prevent blood clots;
Rest for 15 days and ask for a caregiver during tummy tuck recovery;
Visit the doctor on the third day and the first week after the surgery, especially to remove the drain;
Wear proper and loose clothes to avoid moving drainage tube and surgical dressing;
Use an elastic bandage or special clothing for a month to control bruising and swelling;
Avoid bathing after abdominoplasty surgery until the drain is removed and the hole is closed;
Prevent blood clots by wearing anti-embolism socks after the surgery or injecting heparin and enoxaparin as prescribed by your doctor;
Avoid walking, doing everyday activities, heavy exercises, and driving for 10 to 14 days after the surgery, especially if the muscles are plicated.
When Are Stitches Removed After a Tummy Tuck?
In abdominoplasty, absorbable sutures are usually inserted at the incision site. These sutures do not need to be removed; only the knots on both sides are removed after two weeks. However, the sutures inside the navel are not absorbable, and removing them after two weeks is necessary. Usually, doctors in Iran recommend using gels, anti-scar creams, silicone sheets, or laser therapy to prevent the formation of excess flesh at the suture site.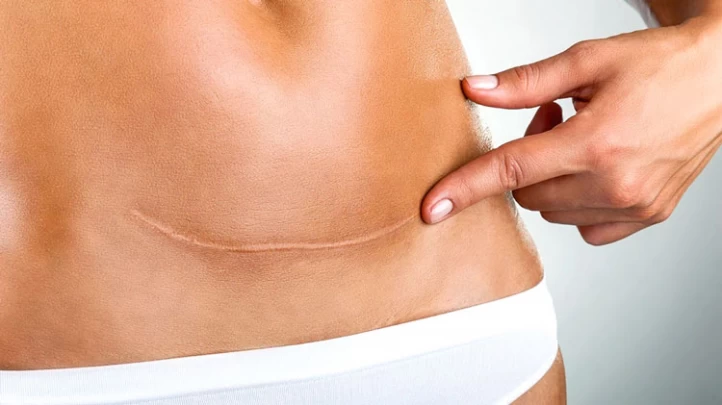 How Long Does It Take for Tummy Tuck Scars to Heal?
The scar looks good in the first days after tummy tuck surgery but becomes red or purple and prominent after some time. This scar is not permanent and will go away after a few months, but the silver line of the scar will always remain under the abdomen. In any case, full recovery of the scars takes 3 to 6 months and sometimes a year.
Inflammation after Tummy Tuck
After each surgery, the body sends white blood cells to the operated area to protect the damaged tissues and attack the harmful bacteria that cause inflammation or swelling. After the tummy tuck, the immune system sends many white blood cells to the incision site to protect the stomach tissue and heal the wounds. Therefore, swelling after the tummy tuck is normal and will subside within several months. Meanwhile, you can wear a compression garment and have a low-sodium diet to get rid of swelling faster.
Meds You Should Take in Tummy Tuck Recovery Period
After being discharged from the hospital, you have been prescribed the following drugs. The duration and method of taking the medicines depend on your physical condition. The meds that you should take after tummy tuck surgery include:
Anti-constipation drugs;
Oral antibiotics to prevent infection in the surgical area;
Acetaminophen codeine, suppository, or ampoule to control the pain.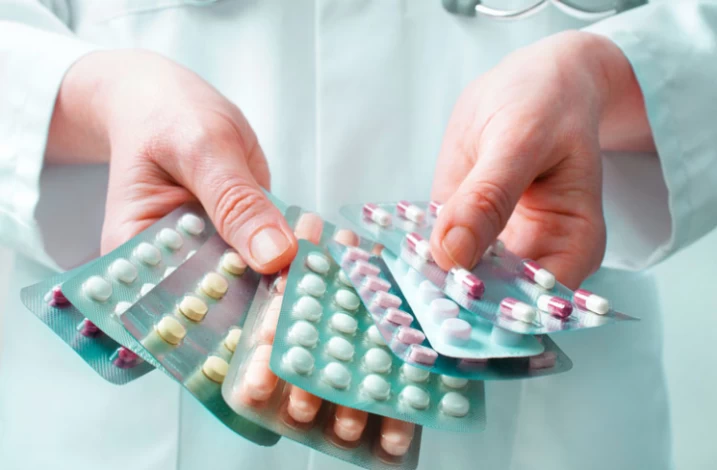 Foods to Eat After Tummy Tuck
A proper diet after a tummy tuck speeds up recovery, avoids weight gain and helps repair your tissues, muscles, and abdomen skin. Since you cannot cook for several days, stocking up on your fridge is recommended before the surgery. Read on to learn what foods you have to have after tummy tuck:
Plain water;
Fruit juice;
Light tea;
Leafy vegetables;
Foods rich in protein;
Vitamin C and A, as well as omega-3;
Whole-grain cereals and nuts;
Fresh dairy products such as milk, yogurt, and cheese (if you are not lactose intolerant);
Smooth soups and pudding, etc.
Foods to Avoid After Tummy Tuck
Some foods should be avoided after a tummy tuck, such as:
Fried foods;
Sodas;
Fast foods;
Foods high in sugar and salt;
Processed foods;
Alcohol and caffeinated beverages; and
Leftovers.
Warning Signs After Tummy Tuck
Pain, bruising, swelling, and digestive problems are normal and inevitable consequences of the tummy tuck. However, you should be aware of some warning signs after a tummy tuck, such as:
High fever because it shows infection;
Severe pain in the operated area;
Pus or green fluid discharging from the incisions;
Excessive bleeding in the incision site;
Shortness of breath; and
It prolonged bruising and numbness in and around the operated area.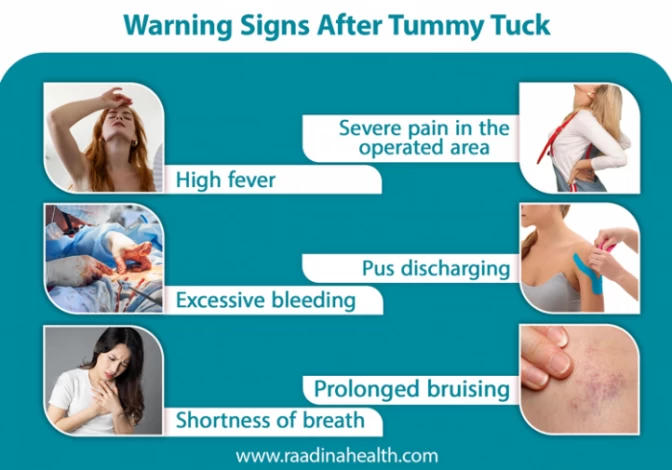 Returning to Daily Activities After Tummy Tuck
Almost all patients who plan to get a tummy tuck wonder when they can return to their everyday life after the surgery. There is no exact time to return to daily activities after the tummy tuck as each body reacts uniquely to the surgery. In the following, the surgeon's suggestions about doing daily activities after abdominoplasty are mentioned:
Working after tummy tuck
Most surgeons recommend a two-week off after the operation as the body needs time to heal. Of course, if your job is labour-intensive, you should avoid working for a month.
Driving after abdominoplasty
You can drive short distances for 2 to 3 weeks after abdominoplasty. But, driving long distances should be avoided for 4 to 5 weeks after the surgery because sitting too much can hurt your wounds.
Exercising after tummy tuck
Exercising after tummy tuck surgery should be done cautiously as it can apply pressure on the stitches and tear them up. You can walk around your bedroom 2-3 days after the surgery, and after a week, you can walk around the house without help. You can engage in more intense exercises from the third week, such as jogging or running on a treadmill. Still, you should avoid heavy sports such as basketball, weightlifting, wrestling, and martial arts until the sixth week after abdominoplasty.
Having sex after a tummy tuck
You should refrain from having sex for 3 to 4 weeks after the tummy tuck, as it can put a lot of pressure on your wounds and prolong the healing process.
Sleeping after tummy tuck
For a month after the tummy tuck, you'd have better sleep on your back (not on your sides or stomach) and keep your head elevated. There would be less pressure on your stomach and stitches by doing so.
How Long Do Tummy Tuck Results Last?
Tummy tuck surgery alone may not maintain the appearance of the abdomen permanently; however, by having an active lifestyle and a healthy and nutritious diet, your tummy tuck results can last for a lifetime. On the other hand, if you do not change your lifestyle, the surgery results may be undone, and the abdomen may return to its original shape.
The factors that return the stomach to its original shape include:
Not having a healthy diet.
A healthy and nutritious diet -including protein, fruit, vegetables, and carbohydrates- and drinking enough water and avoiding fatty and high-calorie food will help maintain the results of abdominoplasty surgery.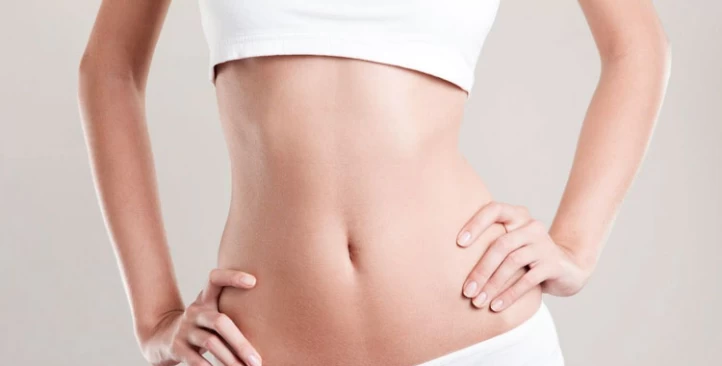 Not doing regular exercises.
Doing exercise keeps you in shape, and avoiding it can eliminate the results of tummy tuck surgery. Your stomach will return to its former shape by not doing regular exercises.
Abdominoplasty surgery does not prevent pregnancy; however, pregnancy can affect the results of the surgery by stretching the skin of the abdomen. So, it is better to tummy tuck when you do not intend to become pregnant. Read this article if you want more information about pregnancy after a tummy tuck.
Like obesity, severe weight loss may affect the results of a tummy tuck. By losing so much weight, the abdomen skin will loosen; as a result, the stomach may sag again.
Why Is Iran a Good Destination for Tummy Tuck Surgery?
Tummy tuck or abdominoplasty is one of Iran's most popular cosmetic surgeries. Having taken advantage of experienced specialists, Iran offers various cosmetic surgeries, including weight loss surgeries, at the most affordable prices than other countries making progress in medical tourism.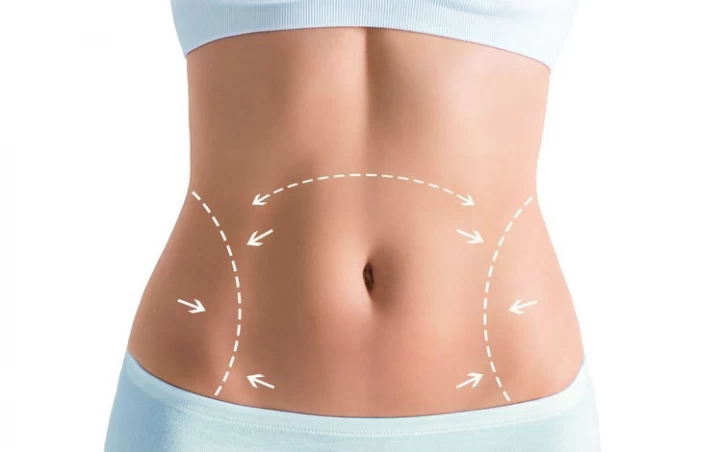 In recent years, Iran has become a popular destination for people worldwide who seek to perform such cosmetic surgeries, especially tummy tucks. As a professional medical tourism company, we offer you an economy package in which all the services you need for a medical trip to Iran are included.
FAQs About Tummy Tuck Recovery
How long does a tummy tuck recovery take?
After a tummy tuck, it takes almost three months for the body to heal completely. Although the swelling and bruising will last six weeks, you can return to work ten days after the surgery.
How painful is a tummy tuck recovery?
Like any other surgery, the first week after the tummy tuck is the worst. During the first week, you will feel pain and discomfort in the lower abdomen and pubis. However, over time, the pain and swelling will be reduced.
What medications should I take after a tummy tuck?
The surgeon will probably prescribe you antibiotics, painkillers, and anticoagulants. In addition, you should apply topical creams or ointments on the abdomen to minimize the scarring. Remember that taking blood thinners such as aspirin is prohibited after a tummy tuck unless your doctor prescribes it.
Why should I wear a garment after abdominoplasty?
Wearing a compression garment avoids the formation of bumps, scars, and wrinkles on the skin. Also, it reduces swelling and helps contour the body after a tummy tuck.
What are the worst days after a tummy tuck?
According to most patients, the second and third days after the tummy tuck are the worst as the pain peaks. However, you can control the pain by taking your prescribed pain medications.
Why is my stomach not flat after the tummy tuck?
If you have a tummy tuck in less than six months, you should wait longer for the swelling to decrease. It takes almost a year for the actual results of the tummy tuck to appear.
SOURCE:
https://www.plasticsurgery.org/news/blog/what-you-need-to-know-about-your-tummy-tuck-recovery